"The Best Skill in the Universe You Can Give a Young Person"
In this Good Faith Classic episode, Curtis and David talk with Meghan Sullivan, philosopher, teacher, and creator of the most popular class at the University of Notre Dame, "God and the Good Life." As many of us send our kids off to college (or head off to college ourselves), Meghan helps us appreciate the role of education–and of philosophy in particular–in helping students take on the big questions of life.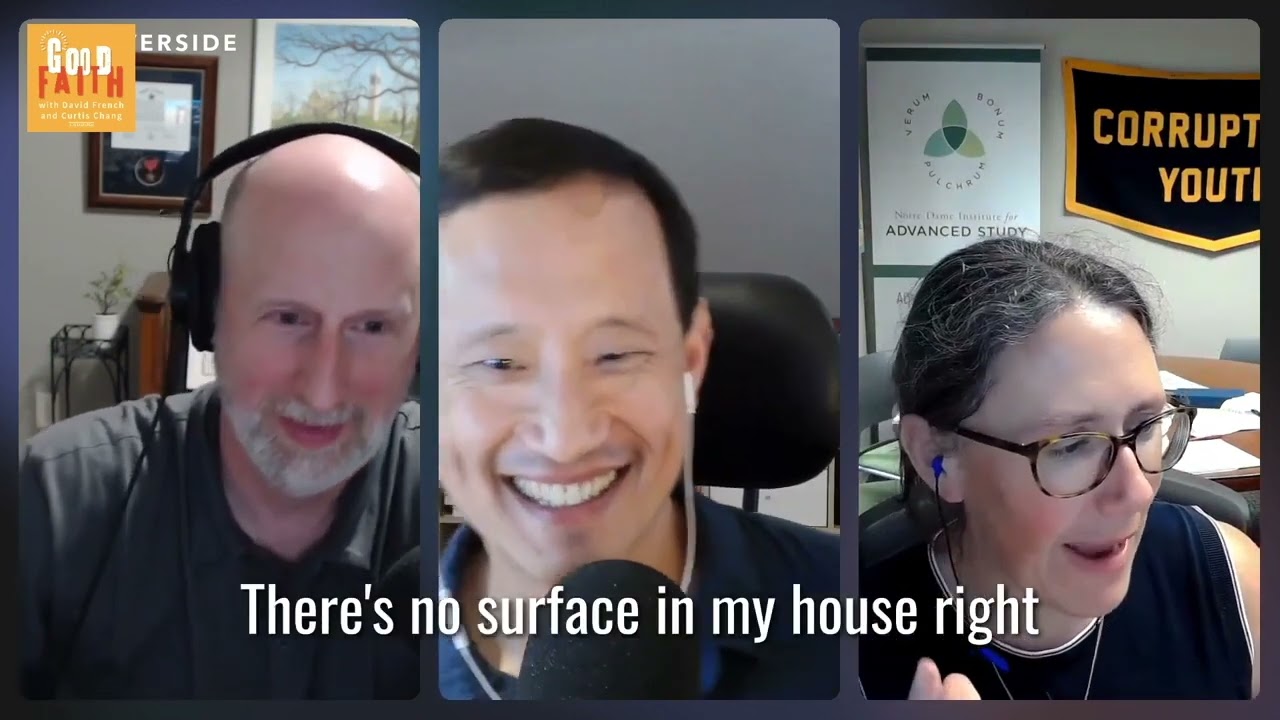 This excerpt has been edited for length and clarity. 
DAVID FRENCH: I've spoken to a lot of colleges over the years and spoken about college an awful lot. And one thing I've said – and I'm really curious about what you think – is that many Christian parents are really afraid of college. They think they're gonna drop their child off and 10  weeks later, little Junior will come home for Thanksgiving and he's got a nose ring, a tattoo, and he doesn't believe in God anymore. And he's written an essay about it that you helped him with.
MEGHAN SULLIVAN: Yes, we made it better!
[both laughing]
DAVID FRENCH: Exactly. And a lot of folks, especially in the Christian community, overthink the intellectual preparation for college. It sounds like, "When somebody says, 'I don't believe in God,' here's your answer. Or when a professor is an atheist, here's your answer."
And we under-prepare students for the emotional and relational aspect of college. And that's really going to determine whether they thrive. And I'm curious about your thoughts on that angle of approach.
MEGHAN SULLIVAN: I absolutely agree. I mean, I'd say this to parents of middle school and high schoolers who are about to run this challenging gauntlet of trying to prepare their young person for college. 
Look, the college industrial complex and universities like Notre Dame are part of the problem because the academic gateway to enter into our universities is so narrow and challenging that you have to spend a lot of time with a young person getting them really up to speed intellectually to have them possibly gain admittance to one of these really great colleges. 
But when we focus on that exclusively, we're only educating their minds and not educating their hearts. They'll get into Notre Dame or Brown or Duke or Stanford, and they will have this incredible gift, but they won't know how to use it. They won't know how to make the kinds of friends that are key in learning anything in these discussion-based seminars that are gonna constitute their college life. And they'll be basket cases as they enter adulthood. They'll be the kind of people who think of themselves as walking test subjects in an endless system of evaluation schemes, rather than people with creativity and value and potential that's still being figured out. 
And so parents who love their young person and have big college dreams for them should spend time helping students get enough of a sense of themselves and confidence to be independent when they get to college, to learn how to take risks, to learn how to talk to themselves when they fail. I think that's really important. 
And my gosh – the best skill in the universe you can give a young person, especially after what we've been through the last couple of years, is the confidence and discernment to make friends, to discover people they love and to learn how to cultivate those relationships. Learning to deal with those relationships when they're challenging. Getting that formational experience in college is going to be on their shoulders. They're going to have to put themselves out there and they're going to have to value those kinds of experiences. There are plenty of ways you can get to an elite college, even one like Notre Dame, and just take tests all the time and study all the time and miss the experience because you don't even know how to look for it.
And parents play a key role with middle schoolers and high schoolers in teaching them how to see other people and not just see lines in a resume.
The Good Faith podcast comes out every Saturday. Listen and subscribe here or wherever you listen to podcasts.
Curtis Chang is the founder of Redeeming Babel.
Subscribers to Redeeming Babel will receive a discount on all Redeeming Babel courses, a monthly newsletter, and exclusive access to member only forums.