"I'm Afraid my Dad Won't Recognize Me."
One cannot make sense of the deformation of the current conservative movement without understanding immigration. And one cannot grasp the nature of immigration without understanding anxiety. Like most political issues today, the topic of immigration is bathed in anxiety – for everyone on all sides. Curtis draws these connections, with the ultimate aim to show that Christians can uniquely contribute to the conversation about immigration because we have uniquely good news about anxiety. This episode draws from Curtis' talk at a convening of the National Immigration Forum in Ohio that included local pastors and civic leaders.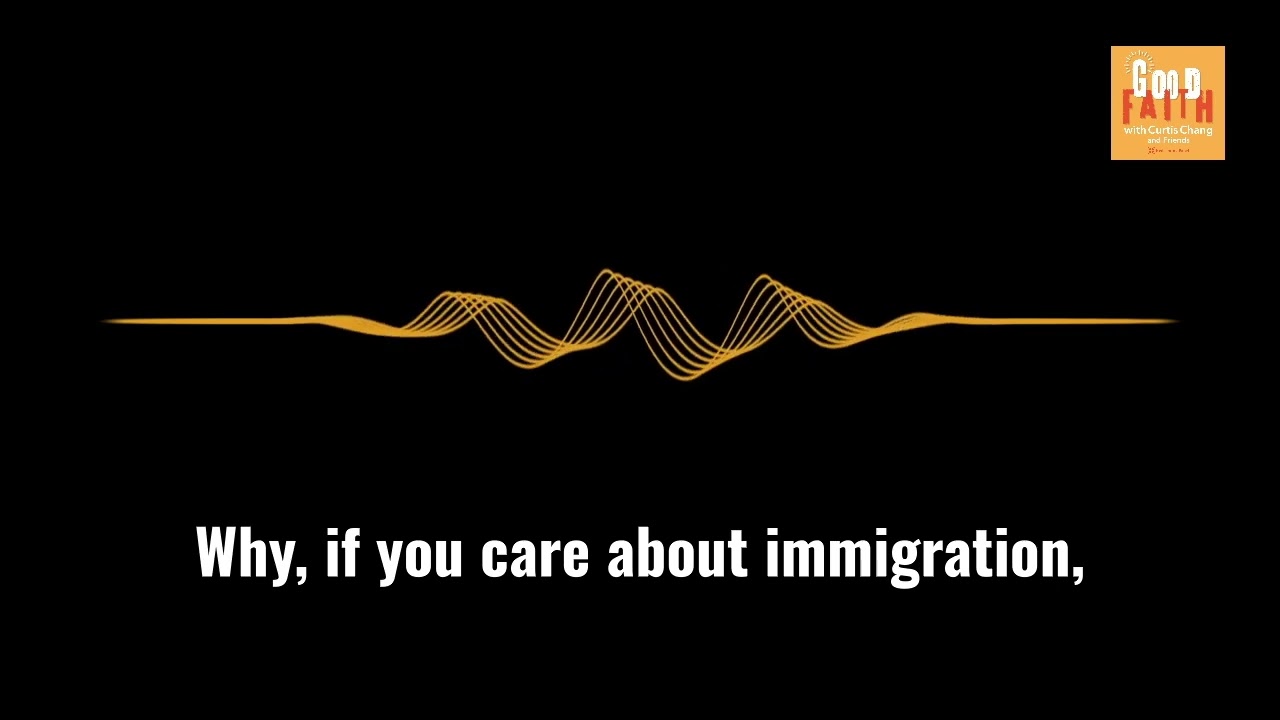 One of the puzzling questions to try to make sense of in the political world over the last 10, 15 years is, "What has happened to the conservative movement?" 
If you go back 15-20 years and compare the conservative movement from then to now, it's hardly recognizable. You go back 15-20 years and there were many issues I would have agreed with. Now, not so much. What has happened substantively to the modern conservative movement? 
I think a quick answer would be Donald J. Trump. But I don't think that explains the substantive transformation of the conservative movement because Trump is not an original, substantive thinker. He's simply channeling sentiments that have been brewing for a long time, giving them a particular voice and brazenness. But he's not an original innovative political philosopher by any means.
We also have to realize that the transformation of the American conservative movement falls right in line with the transformation of conservative movements across the West. Globally, there has been a rise of similar far right movements across the West, across Europe, in many, many countries that obviously transcend Trump. 
Now some of the factors driving the radicalization of the right are the same factors driving the radicalization of the left. You have social media creating homogenous communities and echo chambers that lead to greater radicalization. But again, those are factors affecting both left and right. It doesn't explain substantively what has been transforming the right. 
If you look at survey after survey of conservative movements, both in the United States and in Europe, you find one concern across all countries that dominates all others at a substantive level: immigration. Immigration on the right far outstrips most other concerns and is the weaving consistent theme across conservative movements transnationally. And it's differentiated from what's happening on the left because immigration is far lower consistently among the substantive concerns for the progressive side. 
As a great example of this, a great study done by The Atlantic's Barton Gellman, published in January of 2022, studied the backgrounds of the January 6th insurrectionists. And he found that the best predictor for who would participate in violence was not economic status – the participants were mostly well off. It wasn't whether they lived in politically red or blue states, either. The factor that most accurately predicted whether somebody would participate in violence on January 6th was which county they came from and whether or not the white population was declining in that county due to immigration. 
Immigration is driving the transformation of the current conservative party. And the thing to understand is that these rioters on January 6th, like most of the conservative movement on immigration, are not driven by purely rational arguments. It's not like the January 6th insurrectionists were waiving detailed policy studies showing that immigration actually is bad for the economy. Those studies don't exist. Almost all of the respectable, robust studies on the actual socioeconomic effect of immigration is that, overwhelmingly, it's positive. It's not without some costs, but overwhelmingly positive. So this substantive transformation is not driven by purely rational arguments. 
But it would also be a mistake to simply dismiss this transformation as purely irrational, driven by racism. I absolutely believe racism is present in the far right movement, but I don't think it explains everything. Because between the purely rational and the purely irrational is a vast realm of human experience – the emotional. 
To understand the emotional drivers of the conservative viewpoints on immigration, you really have to dig into one particular emotion: anxiety. Immigration, like so much of our political landscape, is bathed in anxiety. And once you put on that lens of anxiety, I think you can map out more of its true nature and also spot potential opportunities for engagement. 
—
I am a lifelong sufferer of chronic anxiety. I've written a book to reflect upon the spiritual and theological nature of anxiety. So…Christian anxiety over immigration? That's me. I'm all over that. 
What is anxiety? We can have symptoms of anxiety: our breath gets quick, our chest tightens. But the existential nature, the very identity of anxiety, is the natural human fear of future loss. So let me just break that down for a second. 
It's natural. It is what all human beings will experience to varying levels. It is built into the human experience. It's hardwired into our biology in the fight or flee instinct. So we have a natural human fear of the future, right? And that's what anxiety is. We are fearing something that is not happening right now. We're going to lose something we value. That's what anxiety is. 
And once we understand that anxiety is a natural human fear of future loss, we can understand why this overlap between anxiety and immigration is so powerful. The fear of future loss is baked into the immigration experience. You cannot be involved in any way in immigration and not feel the fear of future loss, whether you're an immigrant or you're in a community receiving immigrants. It involves anxiety because it involves the fear of future loss. 
To illustrate that, let me tell my own story. This is a picture in 1972 Taipei International Airport. My two sisters, my mom, and I are wearing the lays. We are about to board the plane to come to the United States. I'm three years old. Take a look at those faces. What do you see?
Well, for one thing, my dad is not in the photo. My mom is alone, taking three kids by herself. My dad had immigrated a year and a half earlier in the classic chain migration pattern, where one person goes first. We hadn't seen each other for a year and a half. But she's also fearing even greater loss. The two people next to her are her closest childhood friends. And she knows, at that moment, she's probably not going to see them for a very long time, perhaps ever. She also knows she's got to make a living. And she doesn't come from the stereotypical highly educated Asian immigrant class. She only had a high school education. My dad, who immigrated first, only got as far as sixth grade. So we were of the blue collar, lower class immigration stream from Asia. So she's fearing the potential loss of livelihood. 
They chose to immigrate, to a great extent, for us. For Amy, Birdie and Curtis. And they wanted a better life for us. But we were doing okay in Taiwan. We were doing well in school, thriving as kids. Would that happen in this brand new country they knew very little about? None of us spoke English! So you can imagine the potential loss of wellbeing that faced us. 
I think that's etched on my mom's face. The kids don't exactly look thrilled, do we? On the plane, I could not stop talking. I was telling them, "You know what I'm going to do? When we get off the plane, I'm going to hide behind Mom and Dad is going to think I didn't come!" Now, that's a very odd response for a three-year old. What was I doing? 
I was trying to deal with my anxiety. I had not seen my dad for about a year and a half. I had only seen pictures and very occasional, expensive phone calls. So why am I wanting to hide behind my dad and play it off as a joke? I'm afraid my dad won't recognize me. And I'm afraid I'm not going to recognize him. So I wanted to hide. And that just shows you how the whole experience of immigration, from the immigrant side, is so bathed with anxiety, because there's loss wherever you go. The immigrant experience is defined by leaving something. Even as a three and a half-year-old, I felt that.
It's not just on the immigrant side – it's also on the communities receiving these immigrants. We immigrated to a community called Rogers Park, one of the northern-most neighborhoods in Chicago. Rogers Park was, for many years, in the early 20th century, a middle-class, white collarish community. In the late 1940s, early 1950s, it was trying to respond to a national housing shortage triggered by the return of veterans coming back from World War II. It developed more subdivided housing in the houses and apartments, which meant that housing became more affordable in Rogers Park, which meant it became more attractive to immigrants. 
Now this happened in the 50s when the immigrant class mainly came from Europe. A lot of Eastern European refugees – Polish, Italians – flooded into what previously had been a mostly WASP Rogers Park. So already by the 1950s, Rogers Park was experiencing change and loss. It was losing the old character of its community already, but at least it was to people that they could partly recognize. They're Europeans, whites, we sort of get them. 
In 1965, the United States immigration policy changed significantly with the 1965 immigration reform. So before that, immigration policies had been heavily biased towards white Europeans. If you remember, before 1965 they were still living in the legacy of the 1882 Chinese Exclusion Act, which limited immigration from Asia and from China. So I'm as Chinese American, I am a member of the one people group that the United States passed laws to declare that we can't ever come here.
It took until 1965 in the civil rights movement to catch up to that reality. And in 1965, they opened the borders to immigrants from Asia. That's the immigration flow that my family was part of in 1972. We were kind of on the front edges of immigration, of Asian immigration into Rogers Park. And that was a new thing for Rogers Park. 
You can see in my kindergarten photograph from St. Ignatius School that I am the only Asian face in that whole class. That was new for people, and I could feel, even in my kindergarten class, that they felt strange and uncomfortable around me. They had never met a Chinese person before and they were somewhat curious, but they were also a little threatened by the new. And we felt that throughout Rogers Park. We would get looks, comments, whispers. We were sometimes taunted. 
Some of this is just meanness, but I think, to a great extent, it is bathed in anxiety. They had never seen a Chinese family walking through Rogers Park before. What did this mean? You think about somebody who'd been living there for 60, 70 years, who had already experienced the change in the 50s, now wondering whether this neighborhood will soon be unrecognizable to them. Will it still be home?
This is the reality of immigration wherever you go – not just in the US, but internationally. Wherever immigration rises, anxiety rises among the receiving community and that affects so many things, including politics. Poll after poll shows that the fear of immigration is a leading political issue that galvanizes people precisely because it touches deeply on their anxiety. 
Given that anxiety and immigration are so tightly linked, how does that change things? We have to deal with anxiety, not only for ourselves, but for our presence in the world. So how, as Christians, should we address and understand anxiety?
The Good Faith podcast comes out every Saturday. Listen and subscribe here or wherever you listen to podcasts.
Curtis Chang is the founder of Redeeming Babel.
Subscribers to Redeeming Babel will receive a discount on all Redeeming Babel courses, a monthly newsletter, and exclusive access to member only forums.