This week, Curtis kicks off a two parter on the tough subject of guns in America. Part 1 is a Good Faith Classic where Curtis and David explored the tensions between gun culture and gun control in our hyper-polarized environment. In addition to discussing good new gun policies, they talk about how we should engage such a complex issue. Stay tuned for next week's Part 2 episode where Good Faith explores what a Christian response to gun violence could look like.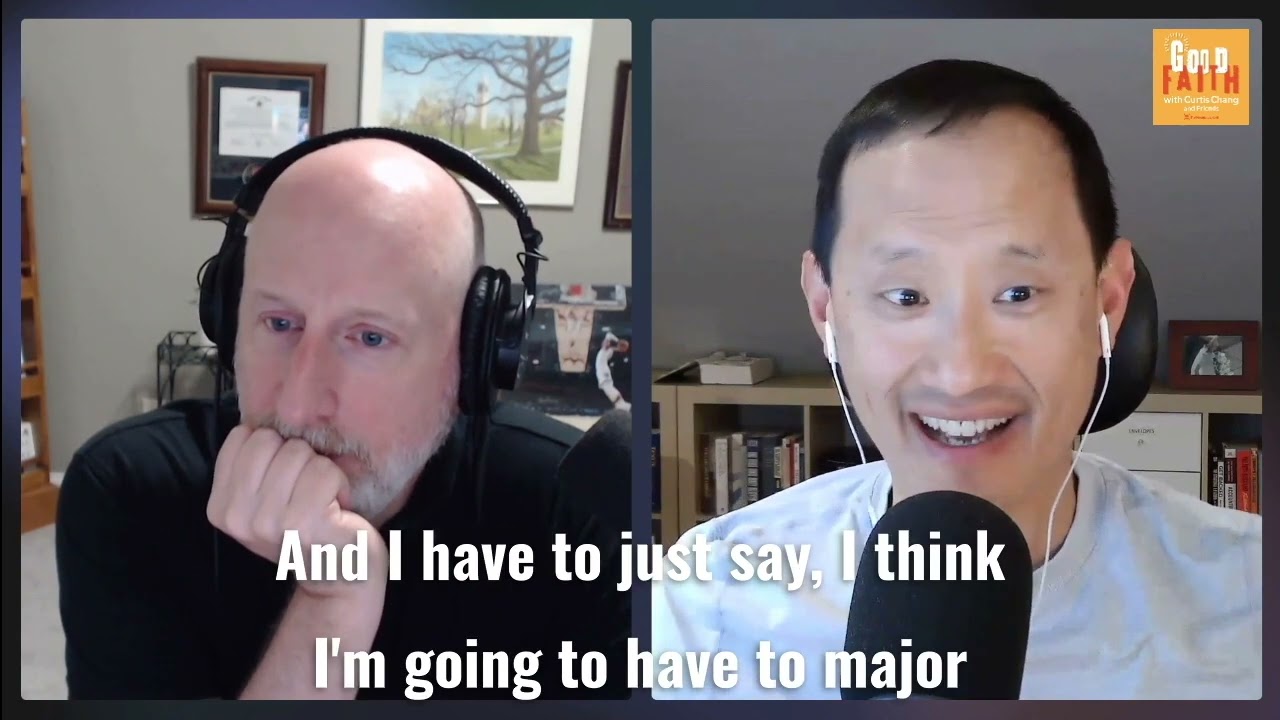 This excerpt has been edited for length and clarity.
CURTIS CHANG: When you're talking about that gun fetish movement — which is growing in power over the debate because it represents the most activated base of the Republican party — it seems to me that another word for a fetish is idolatry. We have elevated something to such a high, almost sacred status that it can't be touched or challenged in any way, even if it demands the sacrifice of lives. When I look at "gun fetish culture," I see the markers of idolatry. 
How do you respond to the presence of idolatry? You can confront it head on, and there's a biblical model for that. But not always. And frankly, in our context, another way you give power to an idol is by focusing all attention on it. 
When you focus on one thing and say that everything has to do with that thing — in one case saying that everything depends on upholding it, and in another case that everything depends on toppling it — you're giving that thing preeminence and power. That's why I'm more open to the idea that, even though I still believe in limiting access to guns themselves, there's a way to respond to gun idolatry by taking attention away from the object itself. I want to get underneath the behavior, to the human realities driving people to bow down to the god of guns. 
It's really anxiety and despair, right?
Certainly you see despair when you look at the profile of the disaffected young males engaged in most of the mass shootings. These are lives of despair. 
Not to mention anxiety. The number one cited reason for gun ownership is self-defense, as people are feeling insecure. It's the reason why, in times of crisis — in the pandemic, after January 6th, after George Floyd, anytime there's a major disruptive event — gun ownership and gun purchases go up. People are feeling scared and insecure, right?
So can we, as Christians, try to speak to the underlying forces and cultural influences that are leading our young men to despair and anxiety? 
Part of the reason I wrote a book about anxiety is that I see anxiety as a huge driver of so many public policy issues. And we debate the public policy issues, thinking the state or some policy can solve it, and we're not addressing this underlying emotional driver of anxiety or giving people a different way to deal with their anxiety rather than seeking the solution in something like guns. 
And we know anxiety is the biggest predictor of depression and despair, which both drive the largest number of deaths from shootings: suicide. And similarly, it's the anxiety that spawns in our public discourse the inability to even consider common sense experiments like the red flag laws. You have, on the pro-gun side, this anxiety that any little movement towards gun control could mean, "They're out to get us. This is just the first step for them to take away our guns." 
So while you're pounding the drum on red flag laws, I'm pounding the drum on anxiety. We need to mobilize our communities, our churches, to deal with this underlying epidemic of anxiety that's infecting all sorts of dysfunctional, dangerous behaviors, including guns. So what do you think about that, David?
DAVID FRENCH: I think the idolatry point is key here. And we talked last week about how idols demand a sacrifice. That's what is so deeply alarming to me. Gun idolatry leads to reckless and dangerous behavior. One of those behaviors, for example, is the increased prevalence of open carried rifles at protests. I think this, as I've written, escalates the menace and the threat and the likelihood of violence in public. There is an absolute need for responsible gun owners to push back against this gun fetishism precisely because it smacks of idolatry. 
I mean — we're making ads with God and guns in the same lineup, right?
CURTIS CHANG: With babies!
DAVID FRENCH: With babies! It's radiating that there's a problem there. And then idolatry makes you closed to information, closed to argument. A lot of people are open to red flag laws and then close off really fast when the gun fetish world moves strongly against it. 
Interestingly, if you go back to 2018, Trump supported red flag laws for a hot minute. So did the NRA. Then there was a backlash. So that idolatry point is incredibly important to make, and that's disturbing to me. The first piece I wrote in The Atlantic was in 2018. It explained American gun culture. And I will tell you American gun culture is different four years later than it was in 2018. It has moved much more in that fetish direction than what I recognized growing up. And I find that deeply disturbing.
CURTIS CHANG: I want to conclude with this theme of challenging gun idolatry. It strikes me that, in the biblical model, some challenges can and must come from outside the culture — for instance, the prophets critiquing the idolatry happening in Babylon and Syria. They weren't Babylonians. They weren't part of Assyrian culture. They were looking from the outside in. That would be like me challenging gun idolatry from outside of gun culture, right? 
You can challenge idolatry from the outside, and it's probably necessary at some level. But is it really going to actually change the behavior of Babylonians and Assyrians? Probably not. 
You also have the model of Israel's prophets speaking about Israel's own idolatry and saying, "Look, this is not part of the true Israel culture. This idolatry you're practicing." And so it strikes me that David, frankly, you're much more of the key prophetic voice here against gun idolatry than some Chinese American living in progressive San Jose can be.
But the key is for people like me and people like you to avoid being pitted against each other and make a common cause in calling for repentance against gun idolatry. And this is where we will need to embrace complexity in order to ask, "Where is the real common spiritual threat that we can agree on?" Because we're actually on the same side on that front while, if we fall into the simplistic definitions provided by the current debate, we may be on opposing sides. Does that make any sense?
DAVID FRENCH: Yeah, and critique is always most effective when it's internal critique. And internal critique is always the most enraging because it's so effective. A person within the evangelical church has standing can be heard within the evangelical church if there's a problem in the church. People tune out someone on the outside, saying, "Oh, there's this New York Times editorial against the Southern Baptist Convention. They don't get it." But when a Baptist calls out a problem, it holds more weight. 
Now, because the critique can be so effective, that also often leaves the person who makes a critique open to extraordinary backlash. You risk being seen as a traitor, right? 
CURTIS CHANG: Well, it seems like all people of good faith on all sides need to be willing to take on that load of internal critique, right? So one of my callings in this issue may be to speak to my progressive friends and explain to them responsible gun culture and the actual importance of guns for this way of life in ways we may not understand. We have to make some effort to understand the complexity and the cultural reality on the other side while maintaining the important distinctions we've been making here. So this isn't just something that applies to one side, like, "Hey gun owners, you need to be taking to task all your fellow community members who have fallen into gun idolatry." I need to do that with my own side so we aren't overly simplifying the issue and demonizing the other side.
DAVID FRENCH: That's exactly right. And, in my experience, understanding complexity introduces humility. And sometimes it takes a long time for people to understand complexity. 
For instance, I have seen debates over the Middle East evolve in my lifetime. Twenty years ago, people thought they knew how to handle peace in the Middle East and anyone who disagreed was considered an idiot. And twenty years later, there's a lot of humility in approaching these kinds of issues. Not everywhere, of course, but a lot more than I used to see. 
That is not the case right now in the argument over gun violence. This is partly because we are so caught up in the red/blue divide that we've inhibited and disincentivized any complex treatment of an issue.
CURTIS CHANG: Or compromise.
Photo by M&R Glasgow on Flickr
The Good Faith podcast comes out every Saturday. Listen and subscribe here or wherever you listen to podcasts.
Curtis Chang is the founder of Redeeming Babel.
Subscribers to Redeeming Babel will receive a discount on all Redeeming Babel courses, a monthly newsletter, and exclusive access to member only forums.